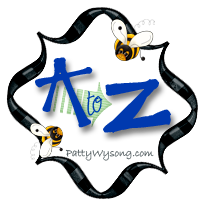 This post is part of the A to Z blog hop. Scroll to the end of this post for other blogs to visit. This week, posts are to start with the letter "A."
Actress/director/playwright/producer Chris Weatherhead and her actor /director/ producer/writer husband, Clarence Felder, have a passion for breathing life into history through film and stage.
As fellow history lovers, we gravitated to each other and have been friends ever since.
Clarence is a sixth generation, direct descendent of Captain Henry Felder of the Orangeburg district in SC and the first & second Provincial Congress.
The fight was instrumental in diverting British troop energies while George Washington's army lay nearly defeated far to the North. Felder raises a militia and rallies against Tory loyalists and stall the British under General Cornwallis, giving Washington needed time to revive his forces.
The story, which focuses on the price Captain Felder, his family, and community had to pay for their convictions, was shot on 31 locations in South Carolina and Georgia, using 14 historical sites, and the Felder Farm in Calhoun County. Crew included historical advisors.
Cast and crew banded together to produce the film without the backing of a large studio, in order to keep it historically correct as possible, replicating the main character's persistence and struggle against external forces.
Producer Ron Mangravite explains, "We wanted to create this movie because it tells the story of a forgotten part of our history. These people suffered and did so much, yet they have pretty much disappeared from national memory. We walk the ground they did but rarely connect with what happened on that ground."
I wanted to bring to the screen a true story I had recently learned that enthralled me, based on a play my husband wrote about his sixth generation great-grandfather.
As a director of theater since the fourth grade, I was always a sucker for a great story and usually find the truth more compelling than fiction. I was excited by new digital technology and had been tracking it for fifteen years before buying the camera we used to shoot this picture.
I run a theater company and for three years had been luring my staff and actors into various digital movie and theatre productions before deciding to shoot this story. It was daunting to launch into an indie historical-action-adventure of this scope, but I couldn't stop myself.
Where were we to get period clothing? How was I going to keep the 21st century out of the frame? Where would I find soldiers and cannon?
But, since having completed the film in spite of seemingly endless difficulties, I am still in love with those wildly committed people on the colonial frontier, who were so desperate for liberty they were willing to die for it. And I continue to be captivated and inspired by what I have learned from them and those who continue to fight for freedom today.
(distributed by BRIDGESTONE MULTIMEDIA GROUP)
One of Chris and Clarence's latest projects is the production of a one-woman, one-act play, Rebecca and the Fox, about Rebecca Motte, a South Carolina patriot, and Brigadier General Francis "Swamp Fox" Marion and a number of other heroes.
Chris Weatherhead, Director - Clarence Felder, Executive Producer
Actors' Theatre of South Carolina
843.588.9636