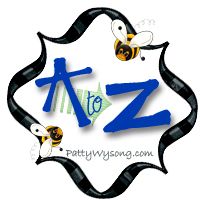 This post is part of an A to Z blog hop. This week's letter is "F"
Sarah Franklin "Sally" Bache
Many women made contributions to the Revolutionary War effort. American men, to their credit, recognized their value and the fact that American women tended to be feisty.
Once, Lord Cornwallis said that the British weren't fighting only farmers with pitchforks and sickles, but their wives as well. Samuel Adams reportedly said, "With ladies on our side, we can make every Tory tremble."
Sarah Franklin "Sally" Bache, born September 11, 1744, to Benjamin Franklin and Deborah Read, was one of those feisty women.
An ardent patriot during the Revolutionary War, she raised $300,000 for the Continental Army, the equivalent of $3 million today.
Sarah also did extensive relief work. For example, as part of her involvement with the Ladies Association of Philadelphia, under her leadership the group made 2,200 shirts for soldiers at the Continental army's winter quarters at Valley Forge in 1777.
Sarah loved music and was a skilled harpsichordist. She also loved reading. Those accomplishments, coupled with the fact that she grew up in an educated, opinionated household, equipped her to serve as the hostess for her father's gatherings upon his return in 1775 from France.
I'm linking to Ms. Barbie's blog today as she talks about a fantastic event her community organzied
"For the least of these."