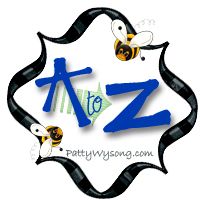 This week's A to Z blog hop letter is M.
Yankee Doodle went to town
A-riding on a pony,
Stuck a feather in his cap
And called it macaroni.
Macaroni was the name given in the 1770s to an extravagantly dressed man, who wore bizarre and over-the-top fashions such as narrow breeches and short, tight waistcoats, usually decorated with large buttons and lace. Macaronis also wore high heeled shoes and small hats. They would often carry a posey of flowers in their hands or pinned to their waistcoats.

The name came from people who had been on The Grand Tour of European countries who liked all things foreign, especially food and who referred to something that was Italian in style as very Macaroni. Macaronis, or fops as they came to be known, frequented the fashionable places of London and won and lost vast fortunes gambling.
The newspapers of the day often made fun of them. For example, The Oxford Magazine published this account: "There is indeed a kind of animal, neither male, nor female, a thing of neuter gender, lately started up among us. It is called a Macaroni. It talks without meaning, it smiles without pleasure, it eats without appetite..."
The British employed the song as a dig at people from the American colonies who they thought were trying to give themselves airs and graces but looking ridiculous. During the Revolutionary War, the colonists reclaimed the song and made it their own patriotic song.
Speaking of macaroni as a food, macaroni and cheese was a favorite dish of colonists, especially Thomas Jefferson. In 1787, upon his return to America from his tour as minister to France, Jefferson brought back a pasta machine he had bought in Italy. He improved on the design of the machine and also came up with recipes that included not only American or English cheddar cheese, but also goat cheese and truffle cheese.
Thomas Jefferson's pasta machine design.