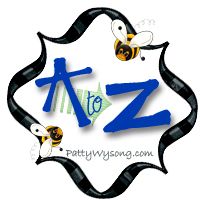 The A to Z blog hop letter this week is "H" -- Here's mud in your eye"
Benjamin Franklin offered many toasts in his lifetime.
Here's one he gave at Versailles when he was the American emissary to France.
The toasting was led off by the British ambassador, who said, "George the Third, who, like the sun in its meridian, spreads a luster throughout and enlightens the world."
He was followed by the French minister, who said, "The illustrious Louis the Sixteenth, who, like the moon, sheds his mild and benevolent rays on and influences the globe."
Franklin finished the round: "George Washington, commander of the American armies, who, like Joshua of old, commanded the sun and the moon to stand still, and both obeyed."
Here's another toast the Patriots made during the Revolutionary War:
To the enemies of our country! May they have cobweb breeches, a porcupine saddle, a hard-trotting horse, and an eternal journey.