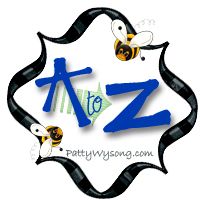 This post is part of an A to Z blog hop. This week's letter is "I." Be sure to visit the blogs listed at the botttom of this post.
People read inspirational fiction for many reasons, for escape and entertainment, but also for enlightenment. They seek a way to fill inner voids, to get into the heads of other people and see how they manage, and come back better prepared to face the real world.
Not all inspirational fiction is Christian fiction, which has definitions and descriptions of its own:
"...celebrates God's presence in our life"
"...characters' relationships to God is the primary focus"
"...stories are about the journey of the soul"
"...wholesome, yet compelling"
"...God plays a significant role in the plot and the outcome
"...focus on ordinary people who are challenged to live their lives in accordance with Christian principles"
"...gentle Christian novels using charm and humor explore the everyday joys, frustrations, and sorrows of lives quietly led; they typically revolve around the activities of a small community of people, such as a small town, a church, or a gathering of friends; the realities of sex, violence, and other passions are downplayed and are never presented in a graphic manner"
"...edgy Christian fiction (sometimes a laughable term to the secular, general market) seeks to throw off the yoke of traditional Christian fiction and offer something more contemporary and less sterilized; gritty scenes; not sweet but brutal."
In a blog post that author Keith Madsen wrote, he said:
Inspirational fiction is people facing the most fearful things in life: the death of loved ones, violence and crime, marital stress, the prospect of life failure, terrorism and war -- and in the midst of it all finding reason to hope. It's stories that say you don't have to put on blinders to the pain in life to believe that there is a good God at the heart of it all.
(
http://www.keithmadsen.com/Wrestling-Alongside-Jacob----a-Blog.html?entry=inspirational-fiction-making-our-own
)
Author Jordyn Redwood, who is a nurse, wrote in her blog post:
Since I experience the fragility of life, I want people to be confident in their beliefs about the afterlife. And I know many of us don't have as many moments left as we think. A novel can be a less threatening way to introduce someone to the concepts of Christianity than handing them a Bible, and yet can still deliver a strong, compelling message.
(
http://wordservewatercooler.com/2013/06/09/why-i-write-christian-fiction/
)

A lamp unto my feet...
So why write inspirational Christian fiction?
Author DeeAnne Gist answered, "I want to stand before God and have him say, 'Well done, my child.' I don't want him to say, 'I can't believe you wrote that.'"
Why do I write it?
It's my mission field, and I want to inspire responses from my readers like this person, who read my Revolutionary War novel,
The Chamomile
:
"Through all the trials, their faith carries the main characters through. The story portrays the integral place that faith played in the early colonies. They are so like us, like me, with questions, fears and doubts. I like how Craft has woven faith throughout the story without ever lapsing into preaching. She has portrayed seamy characters without using offensive language--bravo!"